A few weeks ago, Ruby and I went to see our friends' sons perform in a stellar production of The Sound of Music at J.E.B. Stuart High School. We were amazed by the show at every level, from the acting and singing talent to the costumes, set designs, and lighting. Ruby has not seen the movie yet; she came home with a host of new songs in her repertoire, with an assist from Google so she would stop singing the one line of each song that she knew over and over and over.
One song from the show has really stuck with her, "My Favorite Things." Hearing this song rather frequently brought up my favorite things that have improved my productivity and focus in 2014, as I ponder the twenty days remaining in the year. Amid the usual joyous holiday whirl, I am making little pockets of time for reflection on the past year and planning for 2015. If you are contemplating the same things, these tools may resonate with you.
If you're still pondering cool holiday gifts beyond bright copper kettles, the Good Reads and Pretty Things lists may be helpful, too.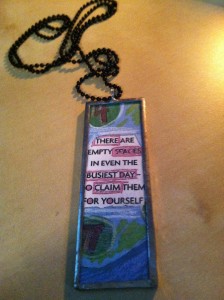 Free Planning Tools
Michele Woodward's Personal Planning tool
Susannah Conway's Unravelling the Year Ahead
Susannah Conway's Find Your Word
Christine Kane's Word of the Year Discovery Tool
Productivity-Enhancing Tools
Bullet Journal (free)
Focus@Will (30-day free trial)
Monoprice Noise-Canceling Headphones
ProNagger – Rachel Z. Cornell is a wise, funny, and oh-so-helpful partner
2015 Create Your Shining Year in Life + Biz from Leonie Dawson
Great Reads
Any book by the amazing Patti Digh
Jennifer Louden's "Connect to Create the World You Want"
Martha Beck's "Who's Sorry Now? 6 Steps to Regret-Proof Your Life"
Fabeku Fatunmise's "Doctor Awesome's Seven Lessons in Extraordinariness"
Pamela Slim's Body of Work
Danielle Laporte's The Desire Map
Elizabeth Gilbert's The Signature of All Things
Thomas Pakenham's Tree books
Any book by the marvelous Oliver Jeffers
Pretty Things
Anne Thalheimer's Art and Monsters
Andrea Scher's Superhero necklaces
Olive Spoon Studio's stamped flatware
Lauren Elaine Designs's custom word of the year bracelets
Wax & Wane's Wands, Candles, and Bath Salts
Melissa Dinwiddie's Music and Art
Fabeku's Sound Shifts Stuff (free)
[All words and images copyright Paula J. Kelly, unless otherwise credited.]